Asian Movers Privacy Policy
Your Privacy Policy is most important to us.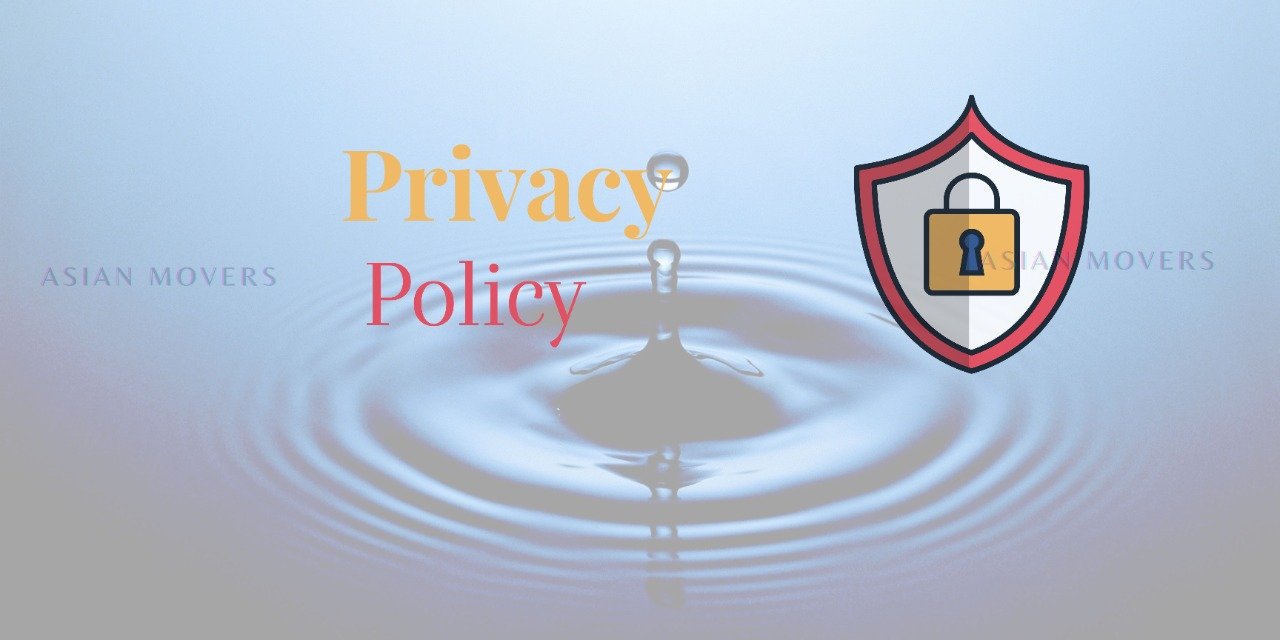 Accordingly, we have fixed this Policy in order for you to know how we gather, use, talk, disclose, and make use of personal details. The following outlines Asian Movers' privacy policy.
Before or at The Time Of Collecting Personal details, We Will Detect The Purposes For Which details Are Being Collected.
We Will Collect And Use Of Personal details Only With The Object Of Satisfying Those Purposes identify By Us And For Other affable Purposes Unless We Obtain
The Consent Of The self worried Or As Required By Law.
We Will Only Keep Personal details As Long As required For The Fulfillment Of Those Purposes. 
We, Will, Collect Personal details By Lawful and Fair Means And, Where Suitable, With The details Or Consensus Of The Individual troubled.
Personal Data Should Be Related To The Purposes For Which It Is To Be Used, And, To The Extent Essential For Those Purposes, Should Be Accurate, Complete, And Up-To-Date.
We, Will, Protect Private details By Sensible Security Safeguards Against Loss Or Theft, As Well As Unapproved Access, Disclosure, Copying, Use, Or restricting.
We, Will, Make Readily Available To Clients details About Our Policies And Practices Relating To The Company Of Private Information.
We're committed to conducting our commercial in agreement with sound principles in order to certify that the confidentiality of private information is defended and maintained.
Asian Movers and Packers have generated this sequestration policy in order to validate its firm commitment to sequestration. No one has access to information gathered through this website except Asian Movers and Packers and its agents. Asian Movers and Packers safeguards the sequestration of information handed by you and analogous may be used for the purpose of mailing. You can visit our website without furnishing any particular information and Asian Movers and Packers will no way ask for your private information.
Asian Movers and Packers is the proprietor of the information published on this website and won't vend, partake, or rent any data gained by us via this website to others. Asian Movers and Packers don't partake in the information you give to us with third parties. Data collected via this website is used to deliver the services offered in that area of the point.
Security
 When people give private information we will use it only for the intended purpose. Asian Movers and Packers are committed to your secretiveness seriously. All data handled by you is particular and the same shall not be handed to others.
Use Of Eyefuls
A cookie is a piece of information or data stored on the stoner's hard drive holding information about the stoner. Asian Movers and Packers use eyefuls for conserving sequestration programs, security, and customization purposes. However, he/ she may still use some information put on the website of Asian Movers and Packers, but may not be able to gain the right to use some of the Services or use some features of the website, If a stoner rejects a cookie.
 Log Files
Asian Movers and Packers use customer IP addresses to examine the operation of the point, manage the point, track druggies' movements within the Asian Movers and Packers, and gather wide demographic information for collaborative use.
Links To Other Spots
This point contains links to other spots. Asian Movers and Packers aren't answerable for the sequestration practices or the content of similar websites.