Reliable and Efficient International Moving Services by Asian Movers - Seamlessly Move Across Borders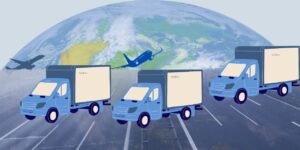 Planning an international move can be overwhelming, but with Asian Movers' comprehensive international moving services, you can embark on your new adventure with confidence. Our experienced team understands the intricacies involved in relocating to a different country and is committed to providing you with reliable and efficient moving solutions. With our attention to detail, personalized approach, and commitment to customer satisfaction, we are your trusted partner for a successful international move.
Why Choose Asian Movers for International Moving Services?
Extensive Experience: Asian Movers has extensive experience in handling international moves of all sizes and complexities. We have the knowledge and expertise to navigate the unique challenges associated with international relocations, including customs regulations, documentation requirements, and logistics. Trust us to manage your international move with precision and professionalism.

Global Network and Partnerships: We have established a strong network of partners worldwide, allowing us to seamlessly coordinate your international move. From packing and shipping to customs clearance and delivery, our network ensures a smooth and streamlined process. We work closely with our partners to ensure the safe and timely transport of your belongings to your new destination.

Comprehensive Moving Solutions: We offer a wide range of international moving services tailored to meet your specific needs. Our services include packing, crating, shipping, customs clearance, and delivery. We provide guidance and support throughout the entire process, ensuring that all necessary documentation is in order and that your belongings are handled with care.

Secure Packing and Protection: Our professional packers are trained in the art of secure packing to protect your belongings during international transit. We use high-quality packing materials and techniques to ensure the safe transport of your items, regardless of the distance. We understand the value of your possessions and take every precaution to minimize the risk of damage.

Timely and Reliable Service: We understand the importance of punctuality and adherence to timelines during international moves. Our team works diligently to coordinate all aspects of your move, ensuring that your belongings arrive at your new destination on schedule. You can rely on us to provide timely and reliable service, minimizing any potential delays or disruptions.

Transparent Communication: Clear and open communication is crucial during an international move. Our dedicated customer service team is available to address any questions or concerns you may have. We keep you informed throughout the process, providing updates on the progress of your move and offering guidance on any documentation or logistics requirements.