Efficient and Professional Packing & Unpacking Services by Asian Movers - Simplify Your Move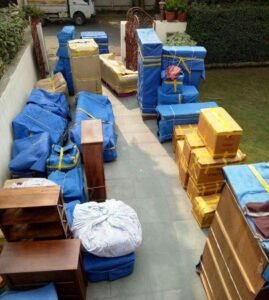 Asian Movers offers efficient and professional packing and unpacking services to streamline your move. Trust our experienced team to handle the tedious task of packing and unpacking, saving you time and effort. Contact us today for a seamless and stress-free moving experience!
Packing and unpacking can be the most time-consuming and daunting aspects of any move. However, with Asian Movers' comprehensive packing and unpacking services, you can simplify your move and focus on settling into your new space. Our experienced team is dedicated to providing efficient and professional packing and unpacking solutions, ensuring your belongings are handled with care and precision. With our attention to detail, personalized approach, and commitment to customer satisfaction, we are your trusted partner for a seamless moving experience.
Why Choose Asian Movers for Packing & Unpacking Services?
Expert Packing Techniques: Our skilled packers are trained in efficient packing techniques to maximize space utilization and ensure the safety of your belongings during transit. We use high-quality packing materials and specialized equipment to protect fragile items and delicate valuables. Trust us to pack your items with the utmost care and attention to detail.

Customized Packing Solutions: We understand that every move is unique, and your packing needs may vary. Whether you require full packing services or assistance with specific items, we offer customized packing solutions tailored to your preferences and budget. Our team works closely with you to create a packing plan that meets your specific requirements.

Time-Saving Convenience: Packing and unpacking can be time-consuming and exhausting. By opting for our professional packing and unpacking services, you can save valuable time and energy. Our experienced team efficiently handles the entire process, ensuring that your belongings are packed securely and unpacked with care, so you can focus on other important aspects of your move.

Organized and Labeled Packing: We understand the importance of organization during a move. Our packers meticulously label and document each box, making the unpacking process at your new location more efficient. By clearly labeling boxes and providing an inventory list, we ensure that items are easily accessible and that nothing gets misplaced during the transition.

Expertise in Fragile Items: Asian Movers specializes in handling delicate and fragile items. Whether it's fine china, artwork, or electronics, our packers have the expertise to properly pack and protect your fragile belongings. We use specialized packing materials and techniques to ensure that your fragile items arrive safely at your new destination.

Stress-Free Unpacking: Upon arrival at your new location, our team can also assist with unpacking your belongings. We carefully unpack and place items in their designated locations, allowing you to settle in quickly and effortlessly. Our goal is to make your transition as smooth and stress-free as possible.